When it comes to indulgent comfort food, few dishes can rival the mouthwatering goodness of poutine. Originating from the picturesque landscapes of Canada, poutine has won the hearts and taste buds of people around the world. This iconic dish, a perfect combination of crispy fries, squeaky cheese curds, and savory gravy, has become a symbol of Canadian culinary delight. In this article, we'll delve into the origins, components, variations, and cultural impact of poutine. Join us on a journey to unravel the secrets behind this delectable creation.
The Origin of Poutine
Poutine's origins can be traced back to rural Quebec in the late 1950s. The story goes that a humble diner in Warwick, Quebec, had a serendipitous culinary accident. A customer requested a side of cheese curds with his fries, and the concoction of flavors gave birth to the first-ever poutine. The word "poutine" itself is derived from Quebec slang, meaning "a mess" or "mix."
Key Ingredients of Poutine
At the heart of every poutine dish are three fundamental components:
Cheese Curds: The hallmark of authentic poutine, cheese curds are fresh chunks of curdled cheese that impart a distinct texture and a delicate dairy flavor.
Golden Crispy Fries: The crispy fries form the base of the dish, providing a satisfying crunch that contrasts perfectly with the other elements.
Hearty Gravy: The rich, savory gravy, often made from beef or chicken stock, blankets the fries and cheese curds, adding warmth and flavor to every bite.
The Perfect Cheese Curds: Squeaky and Delicious
To achieve the characteristic "squeak" that quality cheese curds are known for, they must be extremely fresh. This unique auditory sensation is a testament to their freshness and adds an element of excitement to the dining experience.
Golden Crispy Fries: The Foundation of Poutine
The choice of potato and the cooking technique play a pivotal role in creating the perfect fries for poutine. Russet potatoes, with their fluffy interior and crispy exterior when fried, are the preferred choice for many poutineries.
Hearty Gravy: Bringing It All Together
The savory gravy binds the dish together, infusing each layer with flavor and warmth. Its preparation can vary, but a well-balanced gravy with just the right amount of seasoning is crucial to complement the other components.
Poutine Variations: Beyond the Classic
While the classic poutine remains beloved, inventive variations have emerged. From butter chicken poutine to lobster poutine, chefs and food enthusiasts continue to push the boundaries of creativity, offering delightful twists on the traditional recipe.
Poutine's Cultural Impact
Beyond its culinary appeal, poutine holds cultural significance in Canada. It's not just a dish; it's a shared experience, a comfort food that brings people together in moments of celebration and solace.
Finding Authentic Poutine: A Quest Worth Embarking On
If you're a true poutine aficionado, seeking out authentic spots that serve this dish is a thrilling adventure. The ambiance and attention to detail in these establishments enhance the overall experience.
Cooking Poutine at Home: Tips and Tricks
Creating restaurant-quality poutine at home is achievable with the right approach. From selecting the right cheese curds to mastering the art of gravy, we'll provide you with valuable tips to recreate this Canadian delight in your kitchen.
Poutine and Comfort Food: A Heartwarming Connection
Poutine isn't just about flavors; it's about the emotions it evokes. The warm, hearty nature of the dish connects with our senses and memories, making it a go-to choice for moments of comfort.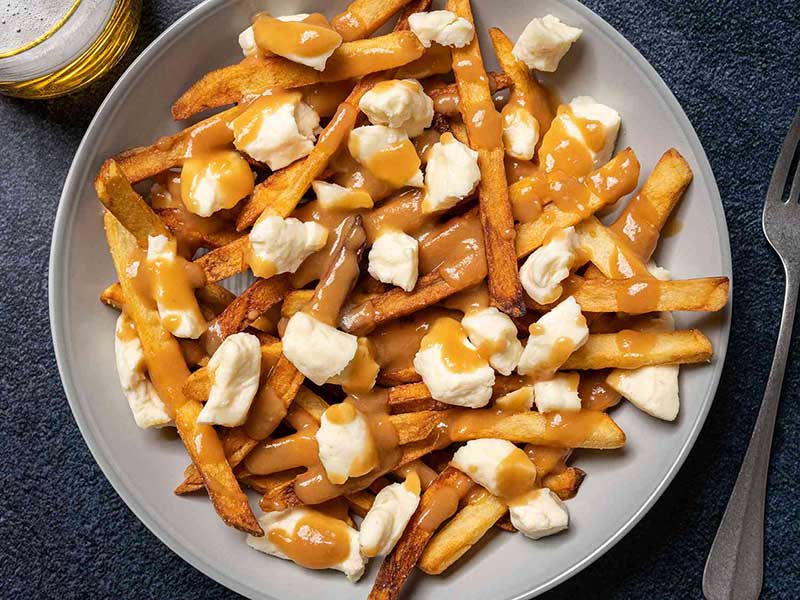 Poutine's Journey Beyond Canada's Borders
As poutine gains international recognition, it has found its way onto menus in various corners of the world. Its adaptation and incorporation into different cultures highlight its universal appeal.
Poutine: Fast Food or Gourmet Experience?
While traditionally considered street food, poutine has undergone a transformation into gourmet territory. Upscale restaurants are reimagining the dish, elevating it to new heights of culinary sophistication.
Poutine Trends and Innovations
The poutine landscape continues to evolve, with innovative twists and fusions cropping up. From vegan poutine to dessert poutine, these trends showcase the dish's adaptability and enduring popularity.
Healthier Poutine Alternatives: Is It Possible?
For health-conscious individuals, the indulgence of poutine might raise concerns. We explore whether it's feasible to create a healthier version without compromising on taste.
Savoring Poutine: A Culinary Adventure
In every bite of poutine, there's a story to savor—a story of cultural heritage, innovation, and a genuine love for good food. So, next time you indulge in this Canadian delight, remember that you're embracing a piece of culinary history.
Conclusion
Poutine, with its humble beginnings and global appeal, stands as a testament to the power of comfort food. From its inception in a small Quebec diner to its presence on menus worldwide, this dish continues to captivate hearts and taste buds. Whether you're a purist who prefers the classic version or an adventurous foodie seeking innovative twists, poutine has something for everyone.
Frequently Asked Questions (FAQs)
Is poutine only popular in Canada?
Poutine's popularity has transcended borders, gaining recognition and appreciation worldwide.
Can I use mozzarella cheese instead of cheese curds?
While it won't be the authentic squeaky experience, mozzarella can be a substitute for cheese curds in a pinch.
What makes poutine gravy special?
Poutine gravy is often made from a flavorful stock, with the right balance of seasonings to enhance the overall taste.
Are there any vegetarian versions of poutine?
Absolutely! Many poutineries offer vegetarian options, using mushroom or vegetable-based gravy.
Is sweet potato poutine a thing?
Yes, it is! Sweet potato fries have been used to create unique variations of poutine with a slightly sweeter twist.