Nothing beats a delicious and homemade pesto chicken pasta recipe. With its flavorful pesto sauce, succulent chicken, and perfectly cooked pasta, this dish is a winner for any occasion. Whether you are looking for a quick and easy dinner or a dish to impress guests, this recipe has got you covered.
Key Takeaways
Make a delicious and easy pesto chicken pasta recipe
Create a flavorful pesto sauce to enhance the taste of the dish
Cook succulent chicken perfect for the pesto chicken pasta
Prepare the pasta to perfection to complement the flavors of the dish
Combine the pesto sauce, chicken, and pasta for a mouthwatering meal
The Perfect Pesto Sauce for Chicken Pasta
One of the key ingredients in our delicious pesto chicken pasta recipe is the pesto sauce. A creamy and flavorful sauce can take an ordinary meal to the next level. Here, we will guide you on how to make the perfect pesto sauce for your chicken pasta.
The Ingredients You Will Need:
| Ingredients | Amount |
| --- | --- |
| Fresh Basil Leaves | 2 cups |
| Garlic | 2 cloves |
| Pine nuts | 1/2 cup |
| Extra-virgin Olive oil | 1/2 cup |
| Grated Parmesan Cheese | 1/2 cup |
| Salt and Pepper | To taste |
These ingredients can be easily found at your local grocery store. Once you have all the ingredients ready, follow the simple steps below:
The Steps to Make the Pesto Sauce
First, add the basil leaves, garlic, and pine nuts to a food processor.
Blend the ingredients until everything is finely chopped.
Add the extra-virgin olive oil gradually to the mixture and blend to form a smooth paste.
Add the grated Parmesan cheese, salt, and pepper to the mixture, and blend again until it forms a creamy pesto sauce.
And that's it! Your flavorful and creamy pesto sauce is ready to be combined with succulent chicken and perfectly cooked pasta. Making the perfect pesto sauce is simple and easy, and it can take your pesto chicken pasta to a whole new level!
Next, we will focus on cooking the chicken for the pesto chicken pasta. We will provide quick and healthy cooking tips to ensure the chicken is succulent and pairs perfectly with the pesto sauce.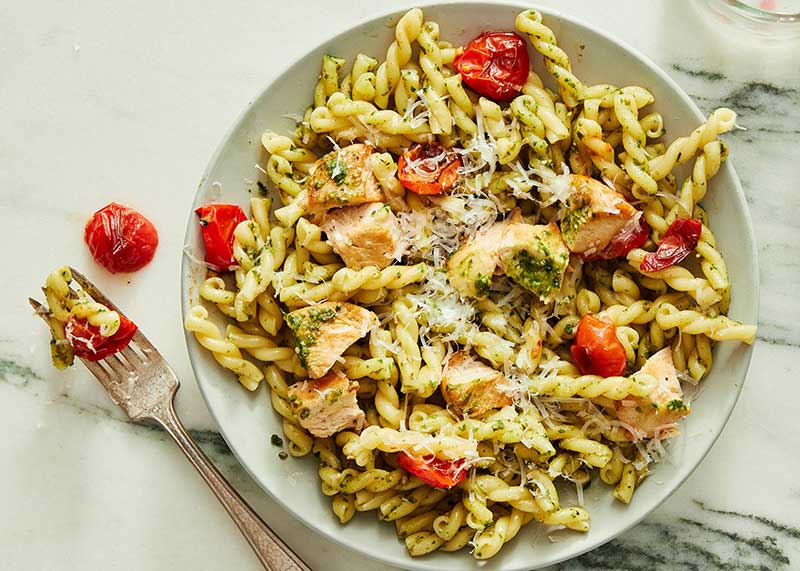 Cooking Succulent Chicken for the Pasta
To make pesto chicken pasta, succulent chicken is essential. Here are some quick and healthy tips for cooking perfect chicken that pairs perfectly with the pesto sauce and pasta.
One of the easiest ways to cook chicken for this dish is by poaching it. Place chicken breasts in a pot of boiling water and let them cook for about 10-12 minutes. Once done, remove the chicken from the pot and let it rest for a few minutes before chopping it into small bite-sized pieces.
Another option is to sauté the chicken in a pan over medium heat. Heat some olive oil in a pan and add the chicken pieces to the pan. Cook the chicken for about 5-7 minutes, flipping it occasionally until it is cooked through.
For a healthier option, try grilling the chicken. Marinate the chicken in your favorite spices and grill it for 6-8 minutes on each side or until it's fully cooked through.
Quick tip: To save time, you can cook the chicken in advance and store it in the fridge for later use. It will stay good for up to four days.
By following these tips, you'll have perfectly cooked chicken that will complement the pesto sauce and pasta perfectly.
Preparing the Pasta for the Dish
Now that you have your succulent chicken and flavorful pesto sauce ready, it's time to prepare the pasta for our homemade pesto chicken pasta recipe. This easy pesto chicken pasta recipe is made even simpler with the right cooking tips and techniques.
Begin by bringing a large pot of salted water to a rolling boil. Add your preferred pasta, whether it's penne, fusilli, or spaghetti, and cook according to the package instructions. Be sure to stir occasionally to prevent the pasta from sticking together. Cook the pasta until it's al dente, which means it should be tender but still have a slight firmness to the bite.
Once the pasta is cooked, drain it in a colander and rinse it with cold water to stop the cooking process. Be sure to shake off any excess water from the pasta before adding it to the pesto chicken mixture. This easy pesto chicken pasta recipe pairs best with short pasta shapes like penne or fusilli, which hold the pesto sauce well.
Pro tip: Reserve a cup of the pasta water before draining it in case you need to loosen the pesto sauce later on.
Combining the Pesto Sauce, Chicken, and Pasta
Now that we have our flavorful pesto sauce and succulent chicken ready, it's time to combine them with the perfectly cooked pasta. This will create the ultimate delicious pesto chicken pasta dish that is sure to wow your taste buds.
Begin by draining the cooked pasta and transfer it to a large mixing bowl. Use a spoon or tong to mix in the pesto sauce until the pasta is fully coated. Next, add in the cooked chicken and gently toss until it is evenly distributed throughout the dish.
For an extra pop of flavor, you can also add some freshly grated parmesan cheese to the mix. This will add a salty and nutty taste that complements the dish perfectly.
Once everything is well combined, it's time to dig in! Serve up a generous portion of the flavorful pesto chicken pasta and enjoy every bite. This dish is sure to be a hit with everyone, thanks to its delicious and satisfying flavors.
Baking the Pesto Chicken Pasta (Optional)
If you prefer your pesto chicken pasta with a crispy and golden-brown topping, try baking it! This step is entirely optional but adds an extra layer of flavor and texture to the dish.
To start, preheat your oven to 375°F. Then, pour the prepared pesto chicken pasta into a baking dish. You can use a 9×13-inch baking dish or any oven-safe dish that fits the amount of pasta.
Next, sprinkle a generous amount of grated Parmesan cheese over the top of the pasta. The cheese will melt and create a delicious crust on top of the dish. You can also add some breadcrumbs or crushed crackers for extra crunchiness.
Cover the dish with aluminum foil and bake it in the preheated oven for 15-20 minutes or until the cheese is melted and bubbly. Then, remove the foil and bake for an additional 5-10 minutes or until the top is golden brown and crispy.
Once the dish is done, remove it from the oven and let it cool for a few minutes before serving. The baked version of our easy pesto chicken pasta recipe is perfect for a cozy and comforting family dinner.
Conclusion
In conclusion, this delicious and easy-to-make pesto chicken pasta recipe is a winner for any occasion. The flavorful pesto sauce, succulent chicken, and perfectly cooked pasta come together to create a mouthwatering dish. Whether you're looking for a quick weeknight meal or entertaining guests, this homemade pesto chicken pasta is sure to impress.
Don't forget to try out the optional baking step for an extra layer of flavor and texture. And for those who are health-conscious, this recipe can easily be made into a healthier version by using whole wheat pasta and lean chicken breast.
Overall, this pesto chicken pasta recipe is a must-try for anyone who loves delicious and flavorful pasta dishes. Give it a go and enjoy a satisfying and tasty meal!
FAQ
Q: Can I use store-bought pesto sauce for the recipe?
A: Absolutely! While homemade pesto sauce adds a personal touch, store-bought pesto sauce works just as well and saves you time in the kitchen.
Q: Can I substitute the chicken with another protein?
A: Of course! If you're not a fan of chicken or prefer a different protein, feel free to substitute it with shrimp, tofu, or even vegetables like mushrooms or zucchini.
Q: How long does it take to make this pesto chicken pasta?
A: The cooking time for this recipe is approximately 30 minutes from start to finish, making it a quick and convenient option for busy days.
Q: Can I make this recipe vegetarian or vegan?
A: Yes, you can easily make this recipe vegetarian by omitting the chicken or replacing it with a plant-based protein option. To make it vegan, use dairy-free pesto sauce and opt for a vegan-friendly pasta.
Q: Can I make this dish ahead of time and reheat it?
A: While the dish is best enjoyed when freshly made, you can certainly make it ahead of time and reheat it when needed. Just be sure to store it properly in an airtight container in the refrigerator.
Q: Can I freeze the leftovers?
A: Yes, you can freeze any leftovers for future meals. Simply portion out the pasta and chicken into freezer-safe containers or bags, and thaw and reheat when you're ready to enjoy it again.
Q: Can I customize the recipe with additional ingredients?
A: Absolutely! Feel free to get creative and add additional ingredients such as cherry tomatoes, fresh basil, grated Parmesan cheese, or even a sprinkle of red pepper flakes for some added heat.