Have you ever heard of a cheese that's so unique and daring that it comes with its own set of safety instructions? Welcome to the world of Casu Marzu, a one-of-a-kind Sardinian delicacy that pushes the boundaries of culinary norms. In this article, we'll take you on a journey through the fascinating history, production process, flavors, and controversies surrounding this extraordinary cheese.
Introduction
Imagine a cheese that defies convention and demands a sense of adventure from anyone who dares to try it. Casu Marzu, often referred to as "maggot cheese," is an Italian delicacy that captures attention due to its unconventional production and intense flavor profile.
The Origins of Casu Marzu
Hailing from the picturesque island of Sardinia in Italy, Casu Marzu has its roots in ancient traditions. This cheese was born out of necessity, as the locals found innovative ways to preserve dairy products in the absence of refrigeration.
Crafting the Curious: How Casu Marzu Is Made
The production of Casu Marzu is not for the faint of heart. Pecorino cheese forms the base, but what makes it truly distinct is the introduction of live cheese fly larvae. These insects aid in the fermentation process, breaking down the fats and creating a soft, spreadable texture that is a hallmark of Casu Marzu.
The Flavors and Aromas of Boldness
Casu Marzu is not just about shock value; it offers a unique sensory experience. The larvae contribute to the flavor, infusing the cheese with a rich, tangy taste that some describe as an explosion of umami. The aroma is robust and pungent, indicative of the cheese's ripeness.
To Eat or Not to Eat: Addressing the Safety Concerns
Eating Casu Marzu requires a degree of fearlessness. The larvae present in the cheese are still alive when consumed, and they can jump up to six inches when disturbed. As a result, many enthusiasts recommend wearing eye protection while indulging in this delicacy.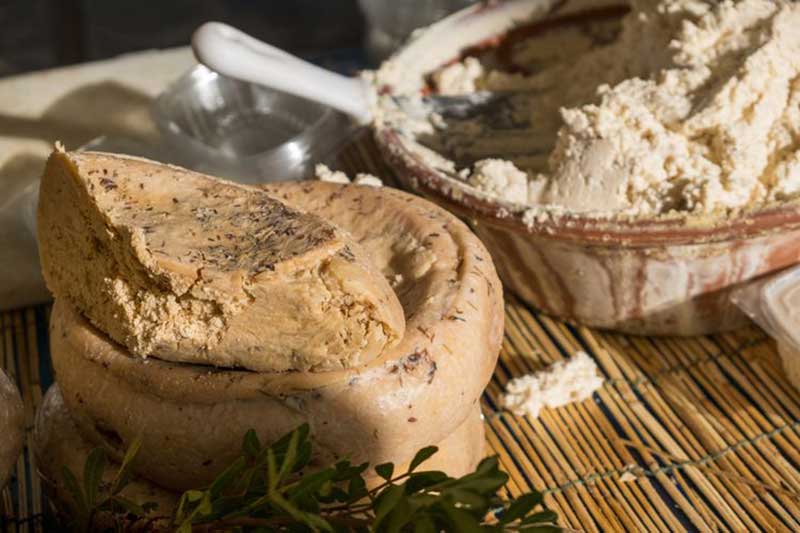 Casu Marzu's Polarizing Popularity
Casu Marzu has garnered attention worldwide due to its unconventional production and the daring act of consuming live insects. While some hail it as a culinary adventure, others cringe at the thought. This polarity only adds to its intrigue.
Embracing the Unique: Serving and Pairing
Sardinians have perfected the art of enjoying Casu Marzu. It's often spread on local bread and paired with a robust red wine to balance the flavors. The combination is an explosion of tastes that exemplify the island's gastronomic culture.
Beyond Cheese: Casu Marzu's Cultural Significance
Casu Marzu transcends being just a cheese; it's a symbol of Sardinian traditions and resourcefulness. It embodies the island's spirit of making the best out of available resources and turning them into delectable creations.
The Ethics of Casu Marzu Production
The production of Casu Marzu raises ethical questions due to the involvement of live larvae. Animal rights activists express concerns about the treatment of these insects and the impact on their populations.
The Thrill of Adventure: Trying Casu Marzu Yourself
If you're an adventurous foodie, trying Casu Marzu might be an unforgettable experience. Approach it with an open mind, a daring palate, and a willingness to embrace the unexpected.
Conclusion
Casu Marzu stands as a testament to human creativity and the limitless boundaries of culinary exploration. It challenges our perceptions of food, daring us to step outside our comfort zones and savor the unknown.
FAQs
Is Casu Marzu safe to eat?
Casu Marzu is an acquired taste and not without its risks. Some people enjoy it without issues, but precautions are advised due to the live larvae.
Can I buy Casu Marzu outside of Sardinia?
The production and sale of Casu Marzu are restricted in many countries due to health concerns. It's primarily found in Sardinia.
What does Casu Marzu taste like?
The taste is intense and tangy, with the influence of the larvae contributing to a unique umami flavor.
How do Sardinians traditionally enjoy Casu Marzu?
Locals often spread it on bread and pair it with red wine to balance the strong flavors.
Is Casu Marzu considered a delicacy in Sardinian cuisine?
Absolutely. Casu Marzu holds a special place in Sardinian culinary heritage, reflecting the island's resourceful traditions.